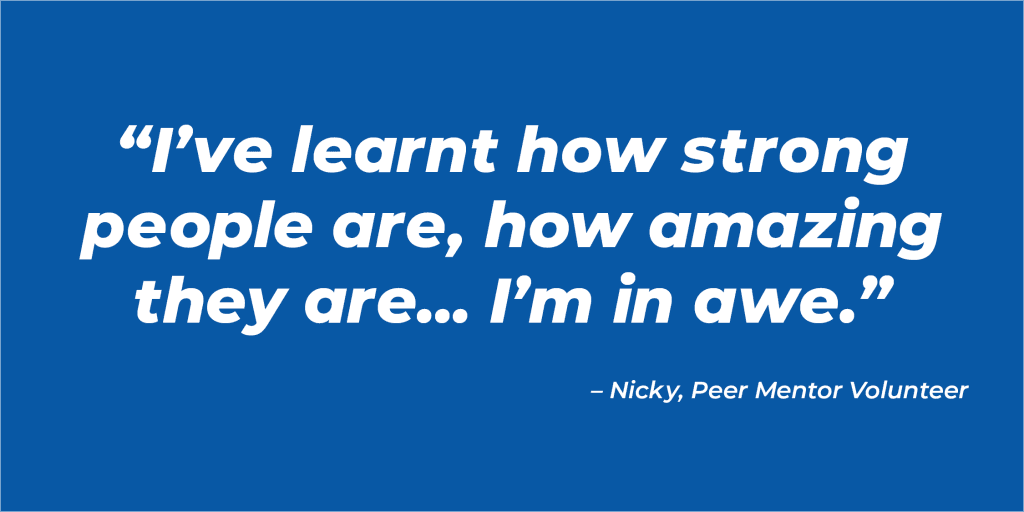 Volunteers are a valued and integral part of the team at VOCAL. We couldn't do what we do without the help of volunteers. Whether volunteering in our reception, lending a hand at fundraising events, supporting one of our services or helping the communications team – we'll help find the right role for you!
Current Volunteer Vacancies
Edinburgh
60 Leith Walk, Edinburgh, EH6 5HB
Peer Mentor Volunteer
As a peer mentor you will provide 1:1 support to carers who wish to meet a carer who has experienced a similar caring role or coped with a particular situation and who is willing to share their story. ​Our volunteers meet their matched carer for up to three meetings and share their experiences constructively. Through the mentoring relationship the carer may gain information and support which can help them reflect on their own situation and choices available. Peer mentors support within agreed boundaries and record all contact using the VOCAL case management system. All meetings are currently virtual via video call or telephone due to the COVID-19 restrictions, however once these ease, we will resume offering face to face sessions.
To find out more above our Peer Mentor role – please contact us on 0131 622 6666 or email Claudine Davison: cdavison@vocal.org.uk
Peer Facilitator Volunteer
As a peer facilitator you will be an important part of the new Thrive Carer Engagement project. You will help us gather the views, experiences and feelings of carers involved with mental health services through: 1-1 conversations, focus groups, helping to design surveys and other activities. You will help us report back to carers and services to highlight what we have found.  Volunteers will also help shape and deliver an independent service for mental health providers helping to increase engagement with their carer community.
Excellent training will be provided, along with ongoing support. Agreed expenses will be offered.
To find out more above our Peer Facilitator role – please contact us on 0131 622 6666 or email involve@vocal.org.uk
Volunteer Roles currently on hold due to COVID-19
Reception
Edinburgh Carers' Hub volunteers provide a friendly welcome to carers visiting or phoning the Hub, undertake administration tasks and support the smooth running of the Carers' Hub. Please send your completed application form to centre@vocal.org.uk
Finance
This role provides essential support to VOCAL's Finance Officer. You will be involved in working with cash and excel spreadsheets while ensuring your work is well-presented and well-organised. Download the role description below and send your completed application to finance@vocal.org.uk
Treasure Tree
Volunteer for Treasure Tree, VOCAL's social enterprise selling your treasures online in return for a donation from your profit. Your support will help us provide a service of selling unwanted treasures online for carers. Please send your completed application form to sell@treasuretree.scot
Midlothian
30/1 Hardengreen Estate, Dalkeith, EH22 3NX
Carer Support
Carer support volunteers provide vital assistance to the the core functions of the Carer Support Team to ensure a consistent and responsive service for carers in Midlothian. Please send your completed application form to pquinn@vocal.org.uk
Centre
Centre volunteers provide a friendly welcome to carers visiting or phoning the centre, undertake administration tasks and support the smooth running of Midlothian Carers Centre. Please send your completed application form to pquinn@vocal.org.uk
Communications
Communication volunteers in Midlothian are key to ensuring all service information within the local community is up to date and replenished at outreach locations. Please send your completed application form to pquinn@vocal.org.uk
Wee Breaks
Volunteers will support the development the Wee Breaks Hub VOCAL by generating, co-ordinating and managing breaks and experiences for carers as well as supporting the online digital platform, providers and practitioners. Please send completed application forms to hburton@vocal.org.uk