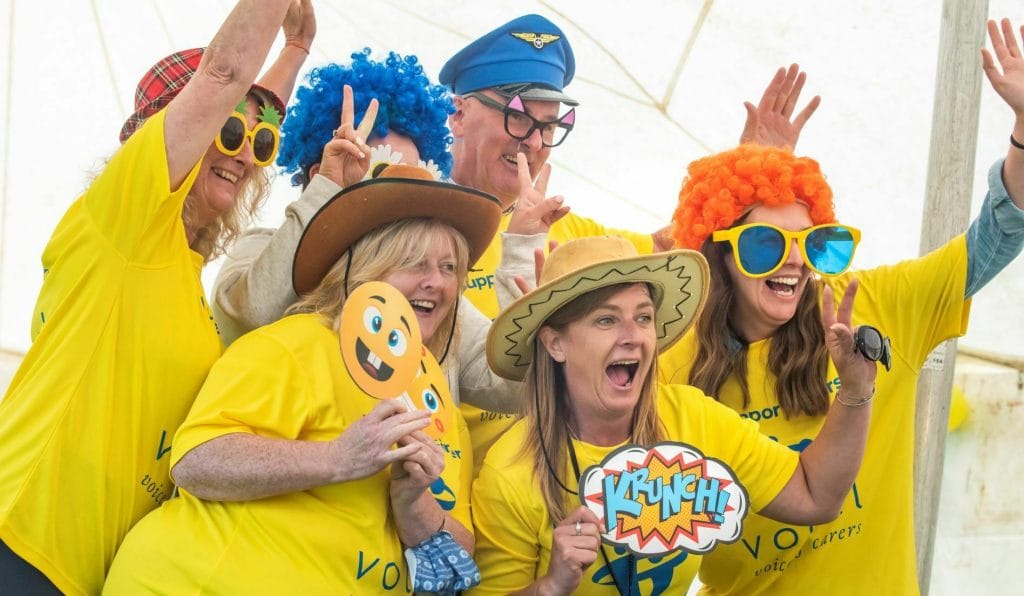 "I've learnt how strong people are, how amazing they are… I'm in awe" Nicky, Peer Mentor Volunteer
Volunteers are a valued and integral part of the team at VOCAL. We couldn't do what we do without the help of volunteers. Whether volunteering in our reception, lending a hand at fundraising events, supporting one of our services or meeting with fellow carers – we'll help find the right role for you!
What to expect from volunteering
Volunteers play an important role in ensuring that we can support more carers. Our volunteers come from a range of backgrounds, and contribute across VOCAL in a variety of roles.
You will be given a full training induction, as well as ongoing training and support from your appointed line manager.
You'll have the opportunity to learn new skills and gain experience.
We host regular social events, helping you connect with other volunteers and colleagues.
We will work with you to ensure you get the most from your role by exploring your talents and strengths!
You will be volunteering as part of our established volunteer team, helping support unpaid carers in Edinburgh and Midlothian.
Vivian describes how volunteering has helped her:
"I decided to volunteer to help my mental health and improve my confidence. I found it really motivated me and helped my stress levels too. I'm really happy volunteering with VOCAL and it's helped me a lot. My friend told me 'You've got life' and I told her, yes that's because I'm at VOCAL!" 
Current Volunteer Vacancies
Peer Mentor Volunteer (Edinburgh)
As a peer mentor you will provide 1:1 support to carers who wish to meet a carer who has experienced a similar caring role or coped with a particular situation and who is willing to share their story. ​Our volunteers meet their matched carer for up to three meetings and share their experiences constructively. Through the mentoring relationship the carer may gain information and support which can help them reflect on their own situation and choices available. Peer mentors support within agreed boundaries and record all contact using the VOCAL case management system.
Facilitation Volunteer (Edinburgh and Midlothian)
To support the running of carers learning and peer support events. These events are announced quarterly, so you'll be able to plan in advance which sessions you are available to support. By offering a warm welcome to our visiting carers, you'll help them relax and feel at ease meaning they get the most from their training or social event. We are looking for volunteers in both Edinburgh and Midlothian, as well as options for remote/online hosts to help with our virtual events.
Join the team!
If you have any questions about volunteering opportunities at VOCAL, please contact our volunteer co-ordinator: volunteers@vocal.org.uk