By remembering VOCAL in your Will, you will be helping to ensure that we can reach every carer who needs our support around Edinburgh and Midlothian.
Once you have made provision for those close to you, we would be honoured to have you consider VOCAL as an additional beneficiary.
Whether you are a carer or know someone who is a carer, or you have been receiving care yourself, your gift could help make a real difference to other carers in our community. However large or small, your legacy support many carers who feel isolated and struggle alone with little or no help.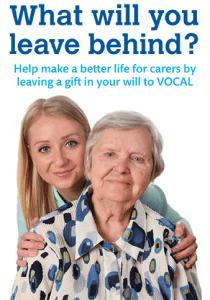 What is a legacy?
A legacy is a specific gift in your will. It could either be a sum of money, an item or it could be a share of the value of your estate after all bills have been paid and all considerations to family and friends have been honoured. Leaving a gift to charity has the added bonus of being exempt from tax, so it may reduce the amount of inheritance tax that is due from your estate.
Why leave a legacy to VOCAL?
At VOCAL, we can guarantee that your Gift will be used to provide the personal, comprehensive support that makes a genuine difference to carers' lives – a great way for your generosity to last beyond your own lifetime  by offering vital support to local carers.
Why not ask your solicitor about leaving a legacy to VOCAL? Your lasting Gift will help to make a better life for carers across the Lothians. If you don't have a solicitor, contact VOCAL to find out about next steps.
You can find out more in our article featuring input from Beveridge & Kellas Solicitor in Leith who offer free 30 minute consultations on preparing your will, and other issues such as guardianship and power of attorney.
Have you already included a Gift to VOCAL?
By letting us know, confidentially,  that you are supporting VOCAL in your Will, we can better understand how our supporters feel about VOCAL's work. We can also reassure you about how we will take care of your Gift and remember your generosity.
Further information
For more information or if you plan to leave a Gift to VOCAL, please download the leaflet below and contact us on 0131 622 6666 or email: chiefexecutive@vocal.org.uk.