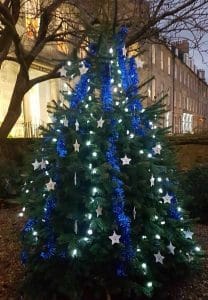 The gift of two superb Christmas trees from Historic Environment Scotland have helped to brighten up VOCAL's carers hubs in Leith Walk, Edinburgh and Dalkeith, Midlothian.
The gift marks the partnership between the two organisations to promote wellbeing for carers in the workplace .
Although VOCAL's centres are not open to drop-in appointments, the team are working hard to meet the needs of carers across Edinburgh and Midlothian.
"We want to say thank you to the Historic Environment Scotland team for helping us with our Carers Are Stars! campaign.  It is so important this year to recognise the work of unpaid carers in the community and being able to put up a real tree decorated with stars shows that we are here to support them over the festive period" said Julie Forster of VOCAL.