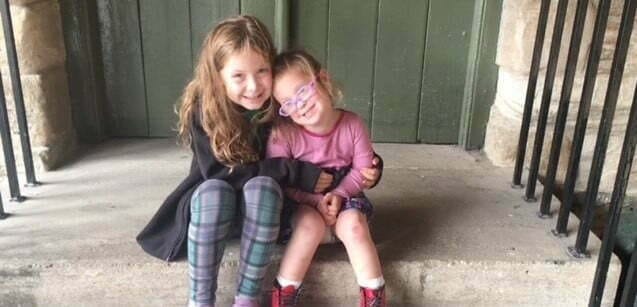 Schoolgirl Alice Daly has stepped up to support VOCAL and its work with carers across Edinburgh and Midlothian.
The 10-year-old pupil from Juniper Green Primary School has pledged to do 10,000 steps every day in March to raise funds for the charity who have supported her family, especially her mum who looks after her sister Norah who has Down Syndrome.
Alice, with support from her mum, aims to complete 300,000 steps in March.  She uses a smart watch to total up what she is doing – walking to school and back again, ballet, highland dancing, and doing extra laps of the block to get her step count up.
Alice's Mum, Kat, explained that she heard about VOCAL's support for parent-carers at an information session at a local school:  "Being a parent of a child with a disability you don't necessarily think of yourself as a carer – just a parent – so it took a while to ask for help but everyone needs support at some point.  What VOCAL was able to do helped the whole family, including Alice, who wanted to do something to say thank you."
Through VOCAL, Kat was able to access practical and emotional support: "I was able to get help with breaks from caring for me and whole family. For example membership at the zoo would have been impossible but now we have the memories of the whole family going together.  The advice, complementary therapy session, peer support and learning helped me help Norah and the whole family."
Alice originally set a target of raising £50 but has already exceeded this total thanks to donations from friends, family and the public. Alice said: "I just wanted to help VOCAL to help other families like ours. Plus it gives me something to do during lockdown!"
You can show your support for Alice's challenge and for carers by donating via the Go Fund Me page she has set up: https://www.gofundme.com/f/alices-300000-steps-for-vocal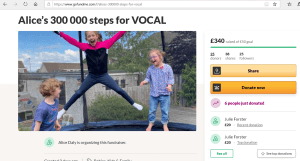 Links & Resources