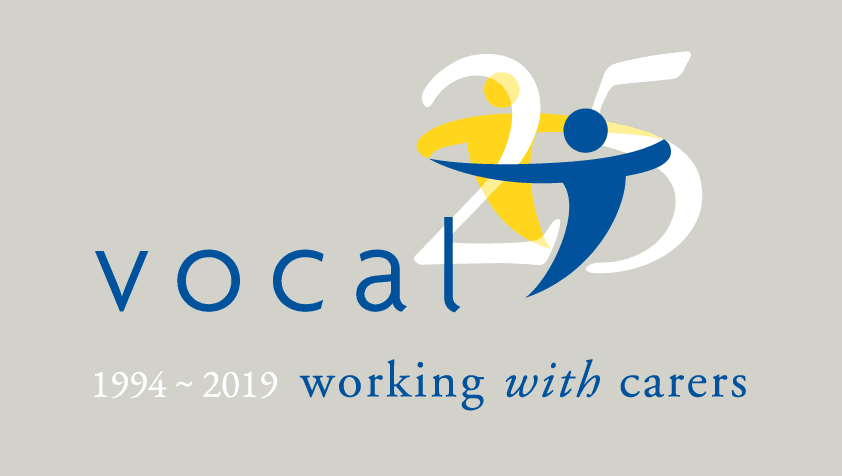 25 years on from the opening of Edinburgh's first Carers Centre in April 1994, VOCAL (Voice of Carers Across Lothian) today launches a six month programme celebrating 25 years of working with carers in Edinburgh and Midlothian. Over the coming months we'll highlight the diversity of caring roles in our communities while we lay the foundations for a future continuing to support them.
Alongside celebratory events, VOCAL will be sharing carers' stories starting with a video story from Sheila and Alan Fletcher – two of VOCAL's founding members – who reflect on the origins of VOCAL. The story began in April 1994 with the first member of staff, a typewriter, a phone and a list of 50 carers.
Today VOCAL employs 38 staff, who together with some 70 volunteers support around 10,000 carers in Edinburgh and Midlothian, through the Edinburgh Carer Hub, the Midlothian Carers Centre and a range of local community bases.
VOCAL Chief Executive, Sebastian Fischer, VOCAL's first employee and still at the helm after 25 years, says:
'Back in 1994, carers in the Lothians formed themselves as a lobby group in the best tradition of community development and self-advocacy. Individually, they had been fighting for recognition and support for many years before, but no one in those days recognised family carers as the bedrock and pillars of our caring society.
Combining advocacy with provision of support, VOCAL was often called a 'flagship' organisation – an example for developments in other parts of Scotland – also because carers here enjoyed strong partnership support from City of Edinburgh Council, Midlothian Council and NHS Lothian. VOCAL is proud to have contributed to many partnerships over the years – in the Lothians and through the Coalition of Carers in Scotland nationally to represent carers' interests at every level of society and politics.
Today, VOCAL is one of Lothian's main providers of carer support. We often call ourselves part of a '21st century trade union' – representing not the paid, but the unpaid care workforce of Scotland – family, relatives and friends. As equal partners in care, they too deserve legal rights and entitlements: to information and support, regular breaks from caring, financial security and practical and emotional support. VOCAL will be needed for many years to come!"
Over the next six months VOCAL's online anniversary hub  – vocal25.scot – will showcase videos, photos and written stories of a range of carers, reflecting the range of caring relationships to promote wider carer identification and awareness. It will also feature a range of fundraising appeals and opportunities offering many ways to give to carers.