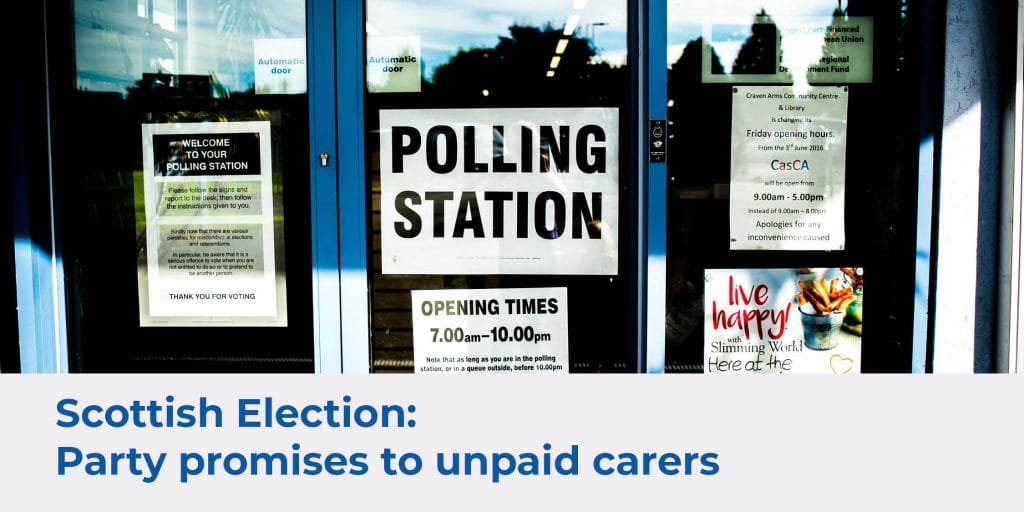 The upcoming Scottish Election represents an opportunity to vote for a party with an understanding of the needs and priorities of unpaid carers. We want the voices of carers to be heard. You can have your say on 6 May 2021, by voting for the Scottish political party that you believe in.
Each Scottish party has a manifesto which shares their commitments and policies if they were to be elected as the next Scottish Government. We have compiled each party manifesto's promises for unpaid carers and included links to the full party manifestos too.
The National Carer Organisations' manifesto presents the top priorities unpaid carers want to see delivered by the next Scottish Government. We want a society that respects, values, and supports carers. You can read the Manifesto for Unpaid Carers and Young Carers here.
The following summaries are presented in order by current majority seats, however you can navigate to the different party sections by clicking on each heading:
Scottish National Party

The Scottish National Party has a main party manifesto and a dedicated separate publication which includes their promises to unpaid carers. The SNP's promises include:

Introduce Carer's Assistance to replace the current Carer's Allowance – increase the value of the payment, (if there's a guarantee from the UK government that they will not take back the extra payment).
Payment for anyone looking after more than one disabled person an extra £10 per week benefiting around 16,350 carers.
Following the death of a cared-for person, Carer's Assistance will be paid for 12 weeks instead of 8, helping over 4,000 carers.
Until Carer's Assistance is introduced, the Carer's Allowance Supplement will continue to ensure carers receive an income that is equivalent to Job Seekers Allowance.
Award a double payment of Carer's Allowance Supplement this year, worth £460.
Use the introduction of Carer's Assistance to make sure carers are given information on the support available to them and invest in carers centres across the country.
Continue the yearly £300 payment for young carers.
Provide thousands of vouchers for short breaks and days out to carers, people with disabilities and families on low incomes.

You can read the full manifesto here.

The supplementary carer manifesto is available here.
Scottish Conservatives

Scottish Conservative's commitments to unpaid carers are as follows:

Ensure respite services are supported to reopen to assist carers who have been under extreme pressure during the pandemic.
Improve the Carers Allowance by introducing a taper rate so that carers do not lose 100 per cent of their allowance if they earn £1 over the £128 per week limit on earnings.
Extend payments of Carers Allowance to up to six months after bereavement and allow carers in full time education to continue to receive Carers Allowance
Provide dedicated employability services to support carers who have had to give up work to return when they are able.
Introduce a new action plan for young carers to ensure there is a coordinated approach to identification and support.

You can read the full Scottish Conservative manifesto on their website.
Scottish Labour

Scottish Labour's promises to unpaid carers are as follows:

Human rights-based Carers (Bereavement Support) (Scotland) Bill to give carers a right to information on support and a plan to support them when their carer role ends – will also include a fund to support training and education, and access to Scottish Labour's jobs and training schemes.
Extension of the Carer's Allowance and Carer's Allowance Supplement from the current eight weeks to six months after their role ends with a new Post-Caring Support Payment.
Introduction of a comprehensive support strategy for unpaid carers which includes increased investment and entitlement to short breaks, access to leisure and wellbeing services, occupational health support and provision of independent advocacy for carers of all ages.
All organisations receiving government funding should become Carer Positive employers with support for education and training.
Development of a Carers' Employment Strategy to support good work for those with caring responsibilities.
Support increasing the amount paid in Carer's Allowance for unpaid full-time carers to create a Minimum Income Guarantee.
Support developing a new cross-portfolio action plan for children and young people with caring responsibilities, with clear actions that can deliver at pace, including employment and education support, starting with access to Scottish Labour's Summer Comeback Programme.
Recognise the needs of the growing numbers of older carers within a new support strategy.
Introduction of a care endowment to address the inequality of inheritance for care experienced children and strengthen support for kinship carers.
Reform the Carer's Allowance by examining ways to improve the earnings threshold, including aligning it to at least 16 hours at the Scottish Living Wage, allowing carers to earn more from part-time work, as well as removing the cliff edge and the full-time study rule.
Extension of eligibility for support by ensuring the new Scottish Carer's Assistance is available to unpaid carers who care for 20 hours or more each week.
Address the 'overlapping benefit rule' that disadvantages carers on the state pension.

The full manifesto is available on Scottish Labour's website.
Scottish Greens

Scottish Greens' commitments to unpaid carers are as follows:

Recognise the value of unpaid carers and ensure they have access to the training, equipment and respite breaks they need.
Introduce health checks and access to flexible healthcare appointments for unpaid carers.
Review of Disability Assistance and Carer's Assistance. This will examine what changes are needed and consider a lower caring hours threshold and more flexible earnings limit.
Immediately increase the Carer's Allowance top-up to £105 a week.
Examine the feasibility of providing an extra payment to those caring for more than one person and of introducing a Carer Recognition Payment for those not able to claim Carer's Assistance due to the 'overlapping benefits' rule.
Double the Young Carer Grant to £600 a year and expand eligibility, by, for example, ensuring that sibling carers and other young people who care together can both receive the payment.

You can read the full Scottish Greens manifesto on their website.
Scottish Liberal Democrats

Scottish Liberal Democrats' commitments to unpaid carers are as follows:

Guarantee respite for unpaid carers.
Support an enhanced Carers Allowance in Scotland and are campaigning for a UK-wide uplift of £1,000 per year to recognise the value of carers
Give carers the right to flexible working hours where it is in our power to grant
Make it easier financially for carers to access education and training.
We will work with local government to introduce a package of carer benefits including free leisure centre access and self-referral to socially prescribed activities and courses
Extend the support and financial assistance available to carers following a bereavement that means their caring role comes to an end, recognising the need to both grieve and adjust.
Provide information and support to carers following the end of their caring role. This will include a new fund to support training and education for carers returning to work after caring.
Extend eligibility for financial support for up to six months after a person's caring role comes to an end.
Engage carers and service users in an update of the 2016 Carers Act in order to improve it in the light of lessons from the pandemic.

The full manifesto is available on their website.