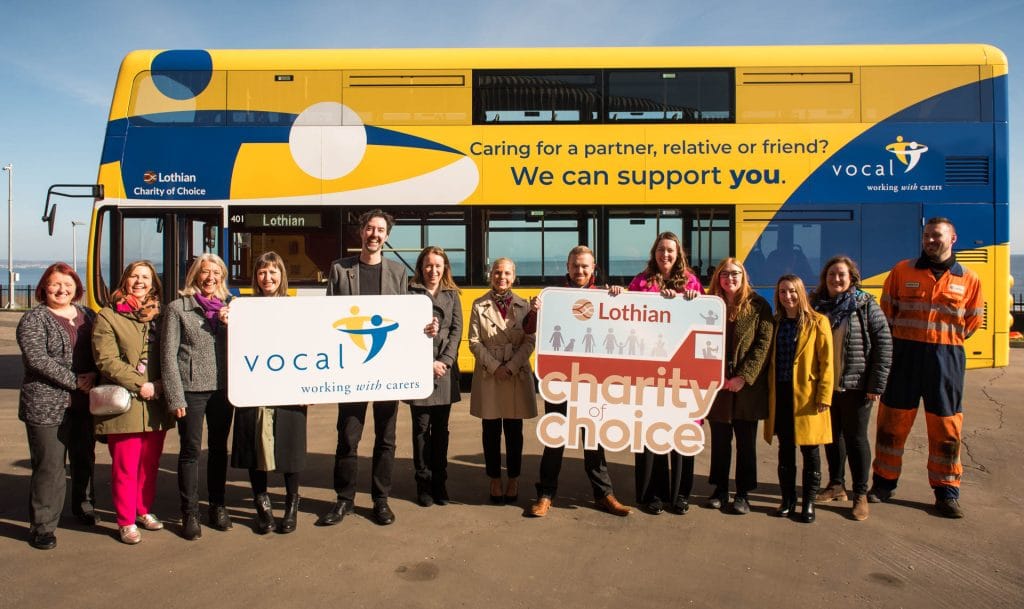 Lothian is delighted to unveil a new specially designed bus in partnership with VOCAL, their newly announced Charity of Choice partner.
The bus, designed in collaboration between Lothian's in-house design team and VOCAL, will promote the charity's message across various Lothian routes over the next two years.
The sides and rear of the bus will feature a striking message along with VOCAL's contact details to encourage unpaid carers to reach out and access support.
VOCAL – Voice of Carers Across Lothian – supports over 10,000 unpaid carers per year, in all caring situations and relationships. The charity was announced as Lothian's new Charity of Choice partner earlier in the year following a staff vote. The partnership will run throughout 2023 and 2024.
VOCAL and Lothian will soon be launching a campaign to name the bus – keep an eye out on their channels to vote for your favourite!
Gaynor Marshall, Communications Director for Lothian said:
"Lothian is proud that our new charity partnership with VOCAL will help to raise awareness of unpaid carers.
"We are delighted to launch our charity bus which will promote VOCAL's message across Edinburgh and the Lothians and encourage those who might need support to contact the charity to find out what help is available for them."
Rosemary McLoughlin, Chief Executive for VOCAL said:
"If someone is supporting a partner, relative, child or friend, then they may not realise that they are a carer and can miss out on vital support. Connecting carers to practical, emotional and financial supports at an early stage can make a big difference.
"We are delighted, through our partnership with Lothian, to have a vehicle which will be seen in communities across Edinburgh and Lothian over the next two years, and will enable more carers to get the support they need."
For more information visit: www.lothianbuses.co.uk / www.vocal.org.uk