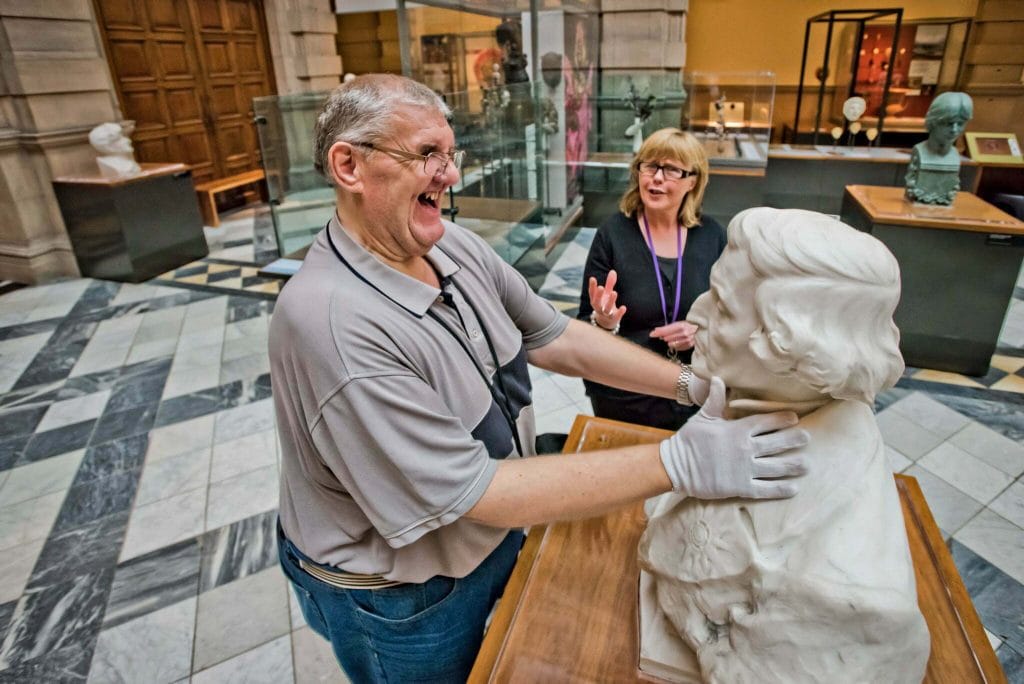 Scotland's national tourism organisation is calling on the industry to get involved in Purple Tuesday: a national day of action focusing on the customer experience for disabled people, on the 3rd of November.
VisitScotland believes everyone should have the opportunity to have a holiday. Our industry should make it as easy as possible for people from all backgrounds to experience our welcome, as part of wider ambitions for Scotland to be a world-leading responsible destination.
Carer charity VOCAL – Voice of Carers Across Lothian, along with Euan's Guide and Tourism For All asked their members and carers about the impact of COVID-19, lockdown and restrictions, in partnership with VisitScotland.
Their evidence shows carers, disabled people and over 65s have faced additional challenges during the coronavirus crisis, with access to social networks, respite and peers reduced or removed entirely.
The findings from VOCAL's Wee Breaks Carers survey reveal significant demand for holiday or leisure time with 46% of respondents either very likely or likely to take an overnight break, rising to 60% for a day trip .
When asked what specific measures they would value 10% of respondents would like staff trained in the coronavirus protection measures, 9% valued the ability to book tickets in advance, and 8% asked for access to FAQ/ accessibility guides prior to taking an overnight break or day trip.
Carers commented on the additional stress lockdown put on those with physical disabilities which in turn can impact on their own mental health and well-being, as well as increasing isolation. Many commented on the need to unwind and relax, somewhere calming away from the crowds like taking a drive or going to the coast.
VisitScotland can support businesses to enhance their inclusive offering with practical advice and tips. Businesses should consider:
If you don't already have one, create a clear and comprehensive accessibility guide
Include hygiene and social distancing procedures within your accessibility guide
Adding an accessibility guide link to the homepage of your website
Consider introducing some new operational practices including online ticketing, blue badge car parking or drop-off arrangements
Marina Di Duca, Inclusive Tourism Manager, VisitScotland, said: "Inclusive tourism has never been more important as we try to reconnect with disabled people during such a challenging year. It is vital disabled people can access venues for their mental health and well-being and tourism operators need as many visitors as they can to help their business recover.

"What we have found from listening to disabled people's concerns is that anxieties around hygiene and social distancing will put them and their carers off from making a day trip or holiday. But by using the inclusive tourism resources available on visitscotland.org and purpletuesday.org.uk and putting out simple, clear messages on their communication channels, tourism operators can make a tremendous difference to people's lives and making our industry more inclusive. But from a business perspective they'll benefit from increase customer loyalty and positive reviews online and word of mouth now and in the future."
Hayley Burton, Development Officer at VOCAL, said:
"VOCAL's ability to facilitate time off from caring remained crucial throughout the pandemic. We have engaged with individuals to understand their short break aspirations and needs so that partners could respond appropriately as restrictions changed. Working to understand individual concerns about visiting attractions, places and spaces helps us continue to support carers to take time for themselves safely.
"It was extremely positive to hear that many carers do want to take an overnight break or day trip, but it is essential that the sector listen to carer needs and put additional measures in place to ensure that their accommodation, attraction or venue is accessible and safe for everyone."
Mike Adams OBE, Chief Executive at Purple Tuesday said: "The findings from disabled and carer groups reinforce the issues identified in a poll of disabled customers in the run up to Purple Tuesday. Small, low cost changes can make a real difference. For organisations making these changes is part of recovery planning and preparing for the easing of Covid-19 restrictions. Becoming more inclusive and accessible makes business sense."
For more information about how VisitScotland is promoting inclusive tourism including an inclusive tourism toolkit
For further information of VisitScotland's response to the Covid-19 pandemic