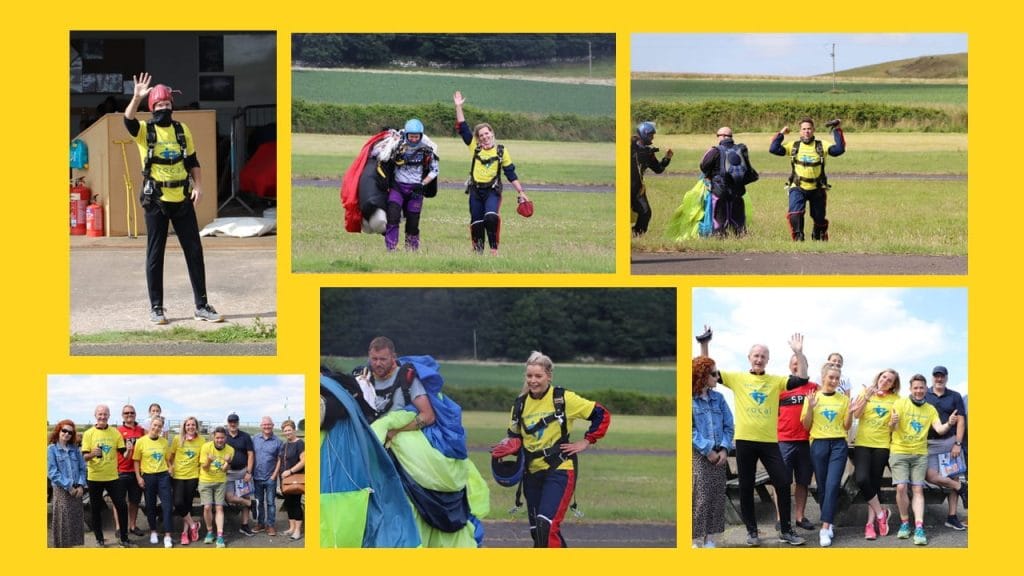 Team Agenor made the most of the recent good weather by completing their sponsored skydive on Sunday 25th July.
Agenor Technology's John Allan, Kirsty Patterson, Annabel Hughes and Anton Olivier were joined by VOCAL's Julie Forster for the tandem skydives from 10,000 ft.
After training, the group were kitted up, matched to an instructor and boarded the plane at Skydive St Andrews based at Fife Airport (yes, Fife has an airport).  They took the 20 minute flight to reach the necessary height where they jumped to experience freefall speeds of around 120 miles per hour before the canopy opened for a more sedate descent to the ground with a gentle landing.
The five were raising funds for VOCAL's work with carers as part of Agenor Technology's partnership with VOCAL in 2020 and 2021.
The group were supported by colleagues, many of whom they have not seen in person for over a year.
Tony Smith, Agenor's Head of Business Operations came along to support the team and said: "I am very proud of this fantastic and very brave achievement by members of the Agenor team in support of VOCAL. As a team building exercise too, it has been a great success".
All five participants were beaming with joy after the jump in contrast to the nervous excitement beforehand.  All agreed that the rush of freefall was amazing and all would do it again…..some day.
Huge thanks to the team and all who have supported or sponsored them.
To sponsor the team go to the JustGiving page for Skydive for VOCAL
You can find out more about a corporate partnership with VOCAL here.