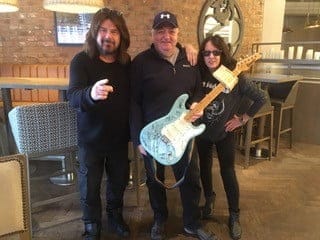 Edinburgh based Doogie White, singer with LA based rock band Alcatrazz, auctioned off a signed guitar, raising £2,000 for four charities, including VOCAL and the Eric Liddell Centre.
Doogie is most famous for working with Ritchie Blackmore's Rainbow, Michael Schenker and Yngwie Malmsteen. The band auctioned off a Stratocaster guitar, at Winterstorm Festival in Troon, to raise money for VOCAL. Doogie's mother has dementia and his wife, Christina is her carer and has been supported by VOCAL. Christina has found the resources from VOCAL helpful and the information available has helped her to learn more about the disease.
Doogie raised over £2,000 for his chosen charities and can be seen pictured with the winning bidder and Kim from  Girlschool.
A huge thank you to Doogie and his band for their fantastic fundraising efforts!
If you would like to support VOCAL and are in a position to donate, we would greatly appreciate a contribution to
our Caring at Christmas Fund to help make a difference to carers. This will support carers directly through small grants to assist carers who are facing financial pressures and have found themselves unable to manage their day-to-day expenses. For more information and to donate, visit Just Giving: https://www.justgiving.com/campaign/vocal-caring-at-christmas