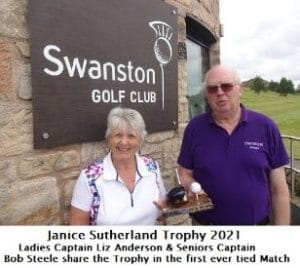 Senior Gents and Ladies Members of Swanston Golf Club in Edinburgh held a raffle and collection in support of unpaid carers cross Edinburgh and Midlothian earlier this month. They raised £270 for VOCAL's work as they held a tournament for the Ladies and Senior Gents on 15th June.
Ladies Captain Liz Anderson and Seniors Captain Bob Steele (pictured) shared the trophy on the day.
We are very grateful to all at Swanston Golf Club for supporting VOCAL.
Sports and social clubs are a great source of community support and as well as choosing to raise funds for VOCAL, Swanston members have raised awareness of the support available for the growing number of carers in our community.
A huge thank you to Liz Anderson, Zoe Norton and all those who helped on the day.