At VOCAL, we predict for 2014 that unpaid family care will be the fastest expanding sector of the Scottish economy. A buoyant job market with unimaginable opportunities to move from part-time to full-time work. An investors' paradise, for where else can one expect to receive tenfold returns?
Therefore, our New Year Message to the Scottish government, local authorities and the NHS is this: invest, invest, invest in carers! No-one else will give you better returns.
As City of Edinburgh Council announces savings totaling £36 million in 2014-15, £66m in 2015-16, £104m in 2016-17 and a further £120m in 2017-18, newly released census figures on family care add further pressures.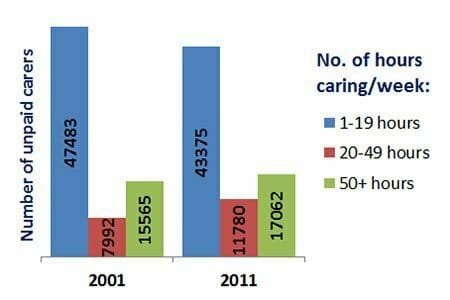 The 2011 census shows a significant increase in the intensity of unpaid family caring. Of 72,217 people in Lothian providing care for an older person, relative or friend with a disability, 12,000 care for 20 or more hours a week and 17,000 for over 50 hours – an increase in intensive caring of more than 22% over ten years.
When the Scottish Government coined the phrase 'shifting the balance of care' (from hospital and residential care to care at home), carer organisations also predicted a seismic shift to unpaid family care. Sadly, census figures prove us right.
Patrick Layden, convenor of VOCAL – Voice of Carers Across Lothian, says:
"We appreciate that public budgets are under a lot of strain. But when money is short, you need to focus on the investments with the biggest return. Savings in carers support would be short-sighted as they provide huge social returns on investment. In 2011, Lothian's carers contributed an estimated £1.5 billion to the social care economy.

This is evidence that further investment in carer support will bring reliable returns for councils, NHS, people with support needs and all our communities."