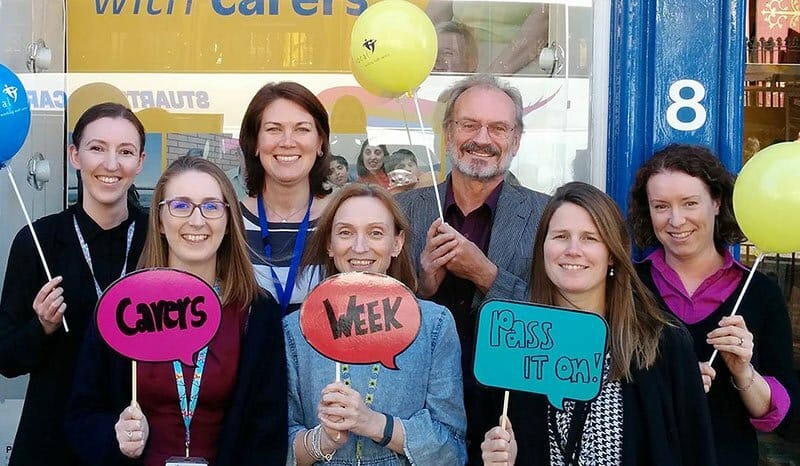 Carers' Week is a national campaign to raise awareness of the issues affecting carers with the aim of creating more carer-friendly communities.
At VOCAL, every week is Carers' Week. However this year's Carers' Week campaign from 12-18 June seemed to be gaining a lot more interest in the press and media than ever before, so we wanted to use the opportunity to speak out for carers through local press, social media and events in the community (see below) – you can also view all the events VOCAL attended on our interactive Carers Week map.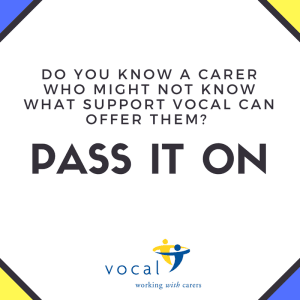 Social media campaign from 12-18 June which focussed on identifying yourself or someone else as a carer, the support that is available and asking followers to #PassItOn
Opinion piece in the Edinburgh Evening News by VOCAL Chief Executive Sebastian Fischer.
Leith Gala Day (10 June) – VOCAL information and fundraising stall.
RBS Gogarburn (12 June) – VOCAL information stall at RBS HQ.
RBS Drummond House (13 June) – VOCAL information stall for staff.
Edinburgh University Easter Bush Campus (13 June) – carer coffee morning attended by VOCAL staff.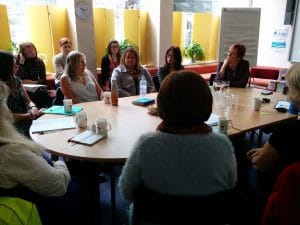 Visit by Angela Constance MSP to VOCAL Edinburgh carer centre – the cabinet minister met a group of carers to discuss Carers' Allowance and other issues affecting carers.
Caring in the City (15 June) – information fair for carers at Gilmerton Society Hall.
Young Carers Rock! (15 June) – benefit gig to raise money for the young carer forum.
NHS staff carer awareness training (15 & 16 June) – Royal Victoria Hospital (WGH) and Scottish Ambulance Service.
Sainsburys Straiton (16 June) – information and fundraising stand.
Tesco Corstorphine (16 June) – information and fundraising stand.
If you would like to get involved in helping VOCAL to reach more carers and help with future awareness raising and fundraising events, we'd love to hear from you.
Contact Francesca Greaves at fundraising@vocal.org.uk or call her on 0131 622 6666.